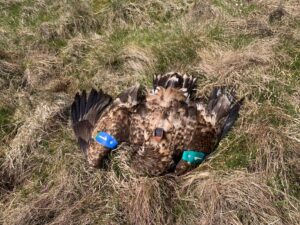 Two young white-tailed eagles found dead in May 2023 in county Antrim at the Glenwherry Hillfarm were confirmed to have been poisoned. Toxicology results have shown the presence of Bendiocarb in both birds. Laboratory testing and the PSNI have confirmed that this incident is classified as an abuse of pesticides. This toxic substance should not be used outside under any circumstances or exposed to wildlife in this way and its use has resulted in these horrific deaths, and this incident is a disaster for raptor conservation.
The NIRSG are appealing for people to report any information to the PSNI and also calling for the banning of possession of this pesticide and other illegal substances which can be followed at this link Ban the possession of dangerous pesticides in Northern Ireland https://chng.it/mmvS78Zv7M
The two white-tailed eagles were found dead lying side by side in the Glenwherry Hill area of Co. Antrim on Monday the 15th of May 2023. Both birds were immature eagles, not yet of breeding age. One bird was released in the Lower Shannon Estuary in August 2022 by National Parks and Wildlife Service (NPWS) as part of the reintroduction programme, having been collected from Norway during 2022. The second bird was an unmarked immature bird of unknown origin, likely from Scotland or Ireland.
The two eagles were found only a few metres apart, having died together, their lives cut infinitely short by the selfish and thoughtless actions of somebody who used this poison. The loss of these two young birds is a real blow to the recovery of the population in the UK and Ireland and the cause of their death and finding of Bendiocarb is a shock to the local community. There has been a huge out-pouring of grief and sentiment from local raptor volunteers and many other local, national, and international observers. The poisoning of these eagles is an indictment and a stain on the local area that will have long-lasting consequences and repercussions.
The NIRSG are distraught at this loss and unreservedly condemns the poisoning of these two eagles. This has been a deliberate action by someone. Somebody knows who did this and they should not be allowed to hide away or get away with causing the deaths of these two incredible birds. Their lives cut short, never to fulfil their legacy of living free and wild in Ireland for many decades. These birds can live for 20 or 30 years in the wild and these two did not even reach the end of their first year of life.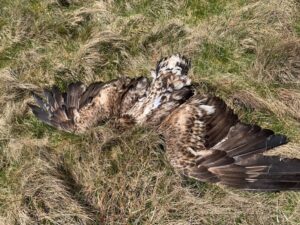 We urge anyone with any information on this case to please speak to PSNI on 101, quoting the crime reference number 1096 of the 15th May 2023. Or you can contact the charity Crimestoppers confidentially and anonymously on 0800 500 111. If you have any information on poison baits in the countryside please let the police know on 101.
Dr Marc Ruddock of the Northern Ireland Raptor Study Group said "We know these parts of the Antrim Hills intimately having monitored birds of prey there for many years and seen various visiting golden eagles and white-tailed eagles there in the past. We are horrified and devastated at the death of these two young eagles. We sincerely hope that this is not a reflection of a renewed intolerance of birds of prey in county Antrim and within Northern Ireland. White-tailed eagles eat fish and seabirds but also other birds, rabbits and hares and more often scavenge dead animals in the countryside. They, along with other native birds of prey, are an essential component of a healthy ecosystem and for such indifference and intolerance to be displayed towards native eagles by somebody in this area is distressing."
Dr Eimear Rooney of NIRSG said "These majestic creatures are part of our ancient heritage and deserve to be revered, not poisoned and left to rot on a hillside. The suffering these birds must have felt in their final moments, and then dying side by side, it is just heart-breaking. Birds of prey are essential in balancing a healthy ecosystem and are already under pressure from loss of suitable nesting and foraging habitat. With the additional losses of birds through illegal poisoning, whether targeted at them or not, it is a massive blow to conservation efforts in Northern Ireland and on the island of Ireland."
Eimear continued "We have been contacted by many people outpouring their upset at the death of these eagles, and people are incensed that these pesticides, many of which are banned due to toxicity to human health, and which unbelievably remain in use illegally, causing the destruction of our native wildlife, and yet are not illegal to have in your possession.".
Consequently the NIRSG are seeking change and to implement protection for future raptors by seeking to ban the possession of these dangerous pesticides. There is a need to strengthen the legislation in Northern Ireland to ensure that the possession of banned and toxic pesticides is prohibited. This requires the review and listing of these banned chemicals to ensure authorities can prosecute anyone for the possession, and use, of these.
The NIRSG is issuing a call to action for people to get behind a campaign to ban the possession of dangerous chemicals in Northern Ireland which can be found at the following link: Change.org and send a message to the poisoners that their actions and choices will no longer be tolerated. Please help make this change!
Follow the link on change.org here: Ban the possession of dangerous pesticides in Northern Ireland https://chng.it/mmvS78Zv7M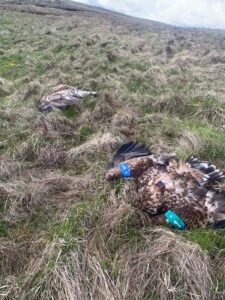 Additional notes:
We are seeking the review and publication of a banned substance list for Northern Ireland. This list will provide the legal basis for prosecution should someone be found to be in possession of a banned toxic substance. Please support our campaign to get a banned substance list for Northern Ireland and help protect eagles and other raptors in the future.
The White-tailed eagle is the UK's largest native bird of prey and has been the subject of reintroduction and safeguarding programmes across UK and Ireland to restore this once extinct species. Once relatively common on many mountainous and coastal areas White-tailed eagles were celebrated and revered for centuries. However attitudes towards birds of prey changed and systematic killing, along with widespread habitat change, led to the extinction of White-tailed eagles from the island of Ireland in
Thanks to reintroduction efforts the first successful breeding of White-tailed eagles in over 100 years in Ireland occurred in 2013. These eagles take 4-5 years to reach maturity and the small population remains extremely vulnerable.
Bendiocarb is a toxic substance used for controlling certain insects, which should only be used indoors and by a professional but has recently been withdrawn from usage. Bendiocarb is extremely toxic to birds and mammals. Heartbreakingly this poisonous substance, which has been withdrawn from usage appears can apparently be purchased freely, and is used illegally to kill birds of prey, foxes and any other indiscriminate scavengers which may come across it.
In cowardly, and lazy, attempts to kill natural predators, baits have probably been laced with the substance and left out to kill anything which may come across them, including potentially pets and people. In this case two juvenile eagles finding their way in the world have become victims of this indiscriminate poison.
Bendiocarb is now the most commonly detected substance in raptor poisoning cases in the UK, the 'favoured' substance by those wishing to kill birds of prey, with the poison involved in 14 out of 32 confirmed poisoning cases recorded in 2021 (RSPB Birdcrime Report). Because of its indiscriminate nature, and danger to humans, leaving poisonous baits in the open countryside is illegal.
The Antrim Hills area where the birds were found is a Special Protection Area for two bird of prey species, the hen harrier and merlin. There are only an estimated 40 pairs of hen harriers remaining in Northern Ireland. Since designation as an SPA in 2006 both species have declined dramatically, with hen harrier dropping from 23 pairs to just 7 pairs. There has been a general decline in suitable nesting and foraging habitat.
Glenwherry Hill Farm is owned by the Department of Agriculture, Environment and Rural Affairs (DAERA) and operated by College of Agriculture, Food and Rural Enterprise (CAFRE). This area has many young student farmers, conservationists and volunteers carrying out field work and studies on a daily basis. It also is the part of the Glenwherry Hill Regeneration Partnership (GHRP) and a site for driven grouse shooting and winter woodcock shooting and a site of the Curlews in Crisis restoration project (https://curlewlife.org/).