YOUNG WHITE-TAILED EAGLES FOUND DEAD IN COUNTY ANTRIM
YOUNG WHITE-TAILED EAGLES FOUND DEAD IN COUNTY ANTRIM
Two White-tailed eagles have been found dead lying side by side in the Glenwherry area of Co. Antrim on Monday the 15th of May 2023. Both birds were immature eagles, not yet of breeding age. One of them was a bird released in the Lower Shannon Estuary in August 2022 by National Parks and Wildlife Service (NPWS) as part of the reintroduction programme, having been collected from Norway during 2022. The second bird was an unmarked immature bird of unknown origin, likely from Scotland or Ireland. They were found only a few metres apart and appeared to have died in recent days.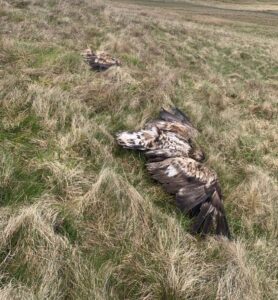 Once relatively common on many mountainous and coastal areas White-tailed eagles were celebrated and revered for centuries. However attitudes towards birds of prey changed from admiration to hatred and intolerance by the 17th century and systematic killing, along with widespread habitat change, led to the extinction of White-tailed eagles from the island of Ireland in 1912. Thanks to reintroduction efforts the first successful breeding White-tailed eagles in over 100 years produced a single chick in 2013. These eagles take 4-5 years to reach maturity and typically only produce 1-2 chicks per year. This means that the population remains extremely vulnerable. The loss of these two young birds is a real blow to the recovery of the population in the UK and Ireland.
Birds of prey, which are essential in balancing a healthy ecosystem, continue to be been illegally targeted to such an extent some areas are at risk of losing their natural top predators again. Some of the toxins used to poison birds of prey are banned substances and are extremely dangerous, not only to wildlife but also livestock, pets and people.
Dr Eimear Rooney of the Northern Ireland Raptor Study Group (NIRSG) stated "Finding such magnificent birds dead is just heart-breaking and we sincerely hope that they are not poisoned or illegally killed although the circumstances of finding two birds dead beside each other is highly irregular and suspicious and they have been collected by the PSNI for post-mortem to establish the cause of death". Eimear continued "I would like to commend the PSNI on their rapid response and recovery of the two birds for testing. The reality is that often these birds are found in remote areas and we rely on information from the public and landowners to understand the circumstances which led to the death of these birds."
If any member of the public has any suspicions, information, photographs or dash cam footage or knows of illegal or unusual activity or people in the Glenwherry region, (including Starbog Road, Shillanavogy Road, Glenhead Road, Drumcrow Road, or Glenview Road), please report these to the PSNI on 101 or online https://www.psni.police.uk/report, or anonymously to Crimestoppers on 0800 555 111. Please refer to the crime reference number 1096 of the 15-5-23.
Any photographs of these birds would also be very helpful to help establish their whereabouts over recent days and these can be sent to NIRSG at https://www.nirsg.com/sightings/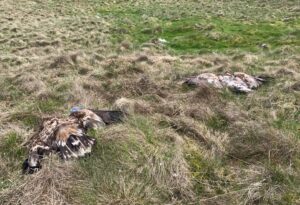 Additional Notes
Wildlife legislation, namely the Wildlife (Northern Ireland) Order 1985 as amended by the Wildlife and Natural Environment (NI) Act 2011 protects birds of prey from disturbance and/or destruction by special penalties. Penalties can include a custodial sentence and/or up to a £5,000 fine per offence.
All birds of prey are listed on Schedule 1 of the order and there are six raptor species which receive additional protection on Schedule A1 which protects them and their nests from disturbance or destruction at all times of the year. Schedule A1 includes peregrine falcon, red kite, barn owl, golden eagle white-tailed eagle and osprey.
Crimes against birds of prey often comprise illegal shooting, trapping or poisoning events and may occur at any time of the year. It is also illegal to cause disturbance to all raptors during the breeding season or damage their nests or eggs.
The NIRSG was founded in 1991 and is a voluntary organisation that studies, researches and monitors birds of prey (raptors) across Northern Ireland. We encourage the conservation of raptors and provide information on breeding and wintering raptors to statutory agencies and non-government organisations to ensure effective and practical management and conservation. We raise awareness of all raptor species and inform and assist the police and wildlife agency regarding crimes against raptors. More information can be found at nirsg.com