New Report Highlights Raptor Persecution & Poisoning in Northern Ireland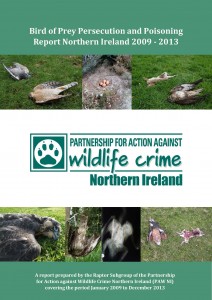 In the five years from 2009 to 2013 there were 30 illegal poisoning or persecution incidents, affecting 33 protected raptors (birds of prey), confirmed in Northern Ireland according to a report published today by the Partnership for Action against Wildlife Crime Northern Ireland (PAWNI).
The most frequent casualty was the buzzard (19 birds) followed by the recently re-introduced red kite (7 birds) and then peregrine falcons (4 birds).  Other raptor species that were recorded included a white-tailed eagle, a golden eagle, sparrowhawk and a merlin.
There were a further 10 confirmed incidents of illegal poisoning of other wildlife or poisoned baits in circumstances where birds of prey were potential victims. Red kites and buzzards, the most frequently recorded victims, are particularly susceptible to poisoned baits as they will feed on carrion routinely.
There were an additional 4 probable raptor crimes (including another white-tailed eagle) and 8 incidents where secondary rodenticide poisoning was recorded.
The report is the result of the work of the Raptor Subgroup of PAWNI facilitating cooperation between the Police Service of Northern Ireland (PSNI), Northern Ireland Environment Agency (NIEA), Northern Ireland Raptor Study Group (NIRSG), Royal Society for Protection of Birds (RSPB) and National Wildlife Crime Unit (NWCU) and analyses the results of post-mortem and toxicology testing carried out via Agri-Food & Biosciences Institute (AFBI) and as reported via the Wildlife Incident Investigation Scheme (WIIS).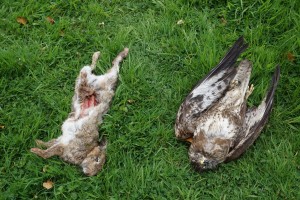 Minister for the Environment and Chair of PAWNI, Mark H. Durkan, welcomed the publication of the report and said "It is a great shame people here are poisoning these wonderful, majestic creatures which brighten up our skies and countryside. I very much condemn the reckless and illegal actions of the minority in our midst who destroy beauty with painful death, leading to the loss of such iconic species. I urge the public to be vigilant and report offenders."
Superintendent, Brian Kee, PSNI service lead for rural and wildlife crime, said "This report highlights the continued disregard for public and wildlife safety displayed by a small number of individuals in Northern Ireland. These actions which destroy our native wildlife are illegal and the indiscriminate use of such toxic poisons may affect not only raptors but also children, pets or livestock. I would urge anyone with any information on these types of crimes to report this to the PSNI on 101 or anonymously via Crimestoppers on 0800 555 111 and be assured of PSNI continued efforts in the tackling of wildlife crime".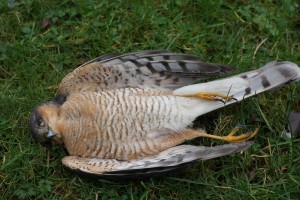 The report lead author, Dr Eimear Rooney (Raptor Officer for NIRSG) said "The overall aim of collating the information in this report was to support government, policy and enforcement agencies to help us all, from authorities to the general public, to understand the scale and distribution of these incidents. I cannot bear to think about the deaths of these individuals, in particular the losses of both golden and white-tailed eagles and red kites, which may have a devastating impact on the survival of these populations. Working with a range of experts via the PAWNI Raptor Subgroup has allowed us to share our data and experience and produce this robust assessment which we aim to update annually."
RSPB, NIRSG and NWCU have further welcomed the publication of the report as another step towards identifying the national frequency, timing and locations of these crimes in Northern Ireland.  The publication of this report demonstrates the value of collaborative working by these organisations to help monitor and record raptor persecution in a strategic effort to identify "hot-spot" areas and help tackle the issues as well as increase public awareness and education.
PAWNI Raptor Persecution & Poisoning Report 2009-2013 FINAL (PDF)
To Download Press Image 1 Click Here
To Download Press Image 2 Click Here
To Download Press Image 3 Click Here
Notes to editor:
Raptor Persecution is one of the UK government's top six Wildlife Crime Priorities.  Raptor crimes typically comprise illegal shooting, trapping or poisoning events and may occur at any time of the year. It is also illegal to cause disturbance to all breeding raptors or damage their nests or eggs.
The Raptor Priority Subgroup comprises Police Service of Northern Ireland (PSNI); Northern Ireland Environment Agency (NIEA); National Wildlife Crime Unit (NWCU); Northern Ireland Raptor Study Group (NIRSG) and the Royal Society for Protection of Birds (RSPB). The Raptor Priority Sub-Group is acting on behalf of and reports back to the main PAWNI group currently chaired by the Environment Minister, Mark H. Durkan.
Wildlife legislation, namely the Wildlife (Northern Ireland) Order 1985 as amended by the Wildlife and Natural Environment (NI) Act 2011 protects birds of prey from disturbance and/or destruction by special penalties. Penalties can include a custodial sentence and/or up to a £5,000 fine per offence.
All raptors are listed on Schedule 1 of the order and there are six raptor species which receive additional protection on Schedule A1 which protects them and their nests from disturbance or destruction at all times of the year. Schedule A1 includes peregrine falcon, red kite, barn owl, golden eagle white-tailed eagle and osprey.
The Campaign for Responsible Rodenticide Use (CRRU) aims to promote best practice so that rat poisons (rodenticides) in particular should not get into the wildlife food chain where it harms owls, kites and other birds of prey. More information on this can be found at www.thinkwildlife.org
A leaflet outlining the protocol for reporting raptor crimes was previously produced by the Raptor Subgroup and is available for download at the following link: https://www.nirsg.com/wp-content/uploads/2014/02/PAWNI-Raptor-Crime-Leaflet.pdf
More information on the Wildlife Incident Investigation Scheme (WIIS) is available at: http://www.pesticides.gov.uk/guidance/industries/pesticides/topics/reducing-environmental-impact/wildlife
For additional enquiries please contact Dr Eimear Rooney; raptorofficerni@gmail.com; 07743068931.